So in conjunction with our Team Fisher House fundraising campaign, a good friend (and quad mom!) offered to host a fundraiser for me!
Have you ever heard of Scentsy?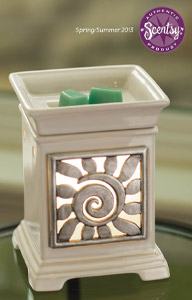 It's absolutely amazing, especially for those of us with kids. No, I'm not getting paid personally to say this (though it will benefit Fisher House!!)
It's home fragrance WITHOUT a flame! How cool? The wax that melts, while hot, won't burn you or your kids, and it's powered by plugging it in and using a lightbulb.
For anyone who uses/likes Scentsy products, or who is interested in trying it, I have a fundraiser open this week through Friday the 31st! You can order right online, the products are shipped to you, and 20% comes back to Fisher House! Fisher House provides a "home away from home" for military families to be close to a loved one during hospitalization for an illness, disease or injury. Great way to restock and help out all at the same time. My personal suggestions? Beach Scentsy Bar (smells like pina colada and helps me pretend it's summer even when it's 50 and raining outside), and the buddies with french lavendar scent packs!
You can view the party here:
Team Fisher House Scentsy Fundraiser
And if you have any questions, please contact me!
And you know what is even better than candles/fragrance?
Chocolate and Cheese Fondue. The makers of Scentsy now have a new line out called Velata. It is a fondue warmer which the dish is microwave and dishwasher safe, and the chocolates and cheeses are AMAZING. Personally, I love the Caramel Milk Chocolate 😉
She also has a Velata party open if that's more your speed!
https://karihickey.velata.us/Velata/Buy
Just choose the Team Fisher House party from the Buy page!