And, apparently I'm horrible at blog keeping. Because the last time we talked I posted pics of our trip to Japan, and now here I am posting about our trip to Korea.
That's right. The kids have now visited their second foreign country! In February we jumped at the chance for another port call in another country and we up and left for South Korea. 
Let's just say that it was a *tad* bit colder there than in Hawaii. Like, low 30s and even 20s at night. While we might have had to buy a few new wardrobe items for the kids (didn't quite fit into what we had from CT almost 2 years ago), it was a lot of fun to have a real winter!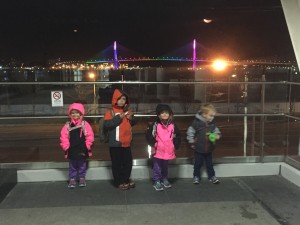 Highlight of the trip, obviously, was seeing daddy!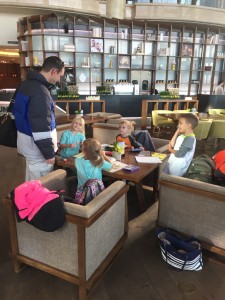 We spent most of the trip in Busan (on the far south on the ocean) and it is an amazing town. While I never would have thought to travel to S. Korea myself, I really am glad we did and I'd consider a trip back. Mostly because the food was AMAZING. There were some fun things like the international market where you could pick your own eel or octopus for dinner (no, we didn't partake. I like my food already cooked when I see it for the first time).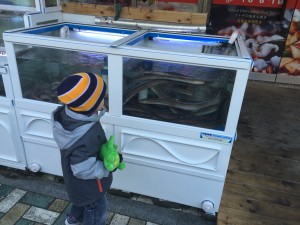 Every now and then they would oblige and take a photo with me, but really they just wanted to be with dad.

Finally got another family photo! 
Not too often do families have 4 kids in a restaurant in Korea, but it was so much fun to try out the different places. 
This was the "Temple by the Sea" – an absolutely amazing temple. The views were fabulous and the history and architecture are just amazing.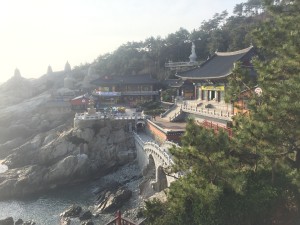 The other amazing thing about Korea? The indoor childrens' play places. Like this one. Hello Kitty themed, they had a ball pit, paddle boats, kids train, and so much more. And, on top of that, it's very hands off parenting there. So you sit at your table, drink your drink (either coffee or beer/wine as you prefer), and you can check on your kids on the CCTV cameras throughout the place if you feel like it. But, mostly, you just hang out and chat with your friends while they have the time of their lives. Honestly? I kind of wish we had an adult version of this place!
Overall, we had the time of our lives. The kids were such troopers, totaling 47 miles over the 4.5 days in Busan. 47. Seriously. Think about that. 
That's what she thought about that. I think the day she fell asleep walking we'd only done about 8.5 too 😉
We spent some time the last day up in Osan (on the way to the airport we flew in and out of) and had the time of our lives with another amazing military multiples' mom and her four kids. Suffice it to say, only another military mom with 4 kids living internationally can fully appreciate travelling with kids solo.