We survived. It was a great morning with a bit of a late start due to a real breakfast, and then we headed east. We made it to a friend's house for a (much too) short stop. They were Navy friends by happy accident and third party connections, but one of those families that you could see yourself being lifelong friends and neighbors with. It was wonderful, and had been too long since last meeting.
Then we hit the road. We knew the movers were hoping to arrive the next day, so we had to push through in one day instead of taking two.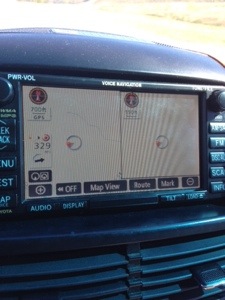 The gps didn't like some of the roads we were on and I'm pretty sure tried to stage a coup at one point.
We made great time though. Had two delays for bad traffic but not terrible by any means.
And finally, we were home. We got the keys for the house, did a walk through, and drove away excited to see it in the light of day the following day.
It was a late night, but we found an awesome suite to crash in and settled in for hopefully our last hotel stay for a while!
Miles traveled: 513 miles
States traveled: PA, NJ, NY, CT, RI