Thank you, thank you, thank you. Thank you for your support for us, for your thoughts and well-wishes for the marathon, and for your support for the Fisher House.
Marine Corps Marathon is like no other. Called "The People's Marathon," there are no elites – no racers getting paid to be there. It is entirely entered by runners wanting to challenge themselves for the sake of the race.
It was cold. Very very cold. But I'd prefer that to rain/wind/snow/heat, so I'll take it!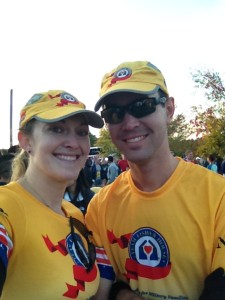 The race was honestly the best I've ever seen/run. It felt like there were just as many spectators on the course as there were runners (and there were a LOT of runners).
And the best part of going in with no real time goal except for to beat the bus? You can be one of "those" people who stop and take pictures. Because, well, why not?!
We were even able to meet up with some amazing friends from our last boat (the Navy really is a small world.. or it at least makes the world feel smaller), and it was wonderful to meet their baby girl! She was even sweet enough to take a pic for us!
And the best part of any race? The bling. And this is by far one of the coolest medals I've ever gotten (with the only exception being the Salinas Valley Half Marathon's… it's a wine bottle cork, what's cooler than that?!)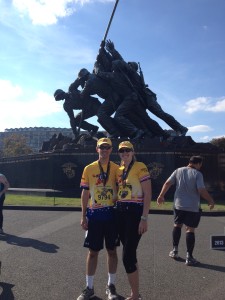 In the end, we charged D.C., "beat the bridge" (didn't get picked up by the slow runner buses), and conquered the last hill at the Iwo Jima memorial.
Thank you, Congress, for doing your job and reopening government so that the race wasn't cancelled! And THANK YOU to Team Fisher House for your support, the awesome race goodies, the crowds cheering us on, and the food tent at the end.