Christmas sure is a miraculous thing when you have small children in the house. Aiden is finally at that age where he still believes that a jolly old man in a big red suit can actually come down a chimney (thank goodness we have one!), but yet not so old to not enjoy the little moments like cookie decorating or a Charlie Brown Christmas.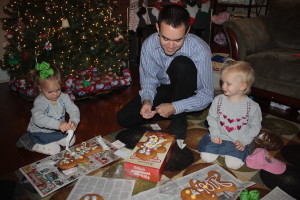 Round one of two rounds of cookies. Because, really, one round is never enough.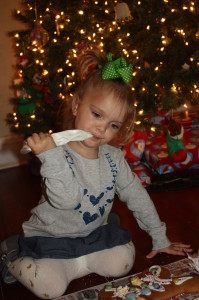 Icing tastes just as good straight from the bag as it does on a cookie!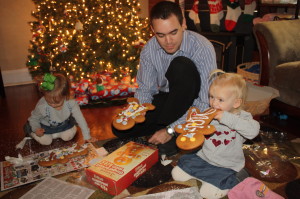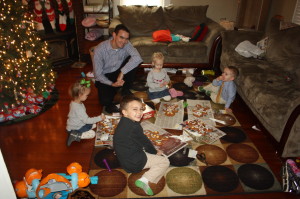 Round two of cookies. The triplets still don't really "get" what's coming up, but they are loving the festivities. Cookies abound, and they are happy icing covered children because of it.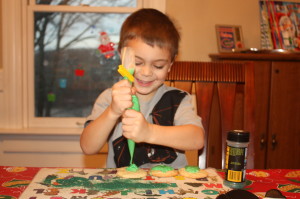 Disclaimer: We did not share these cookies with anyone else. Even I won't eat the cookies that they decorated for themselves.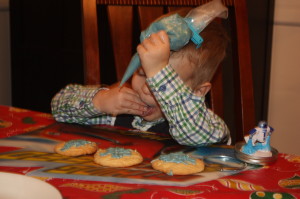 The blue icing was entirely his after this.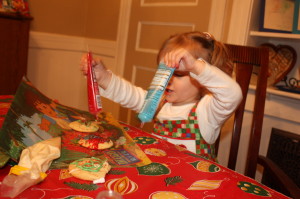 Yum, three layers of icing on one cookie!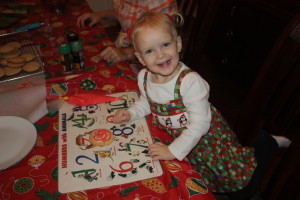 At least we have one semi-neat child!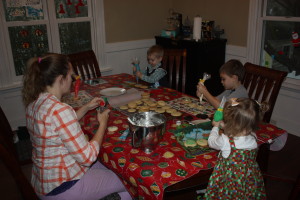 Note to self: Copy this idea next year and decorate before sweeping/mopping. Or at least pretend that your floor was purposely left dirty because you knew cookie day was coming up. Length of time does not need to be specified.
So that brings us to Christmas Eve. These little guys have no idea what's coming tomorrow, and I cannot wait to see their faces when they realize the presents under the tree are for them, from the people who love them near and far, and that pajamas all day is perfectly acceptable!!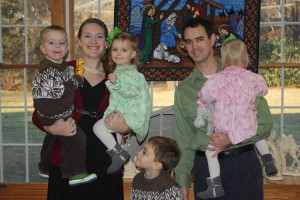 All dressed up with somewhere wonderful to go. Yay for childrens' church services where ours weren't the loudest by far (and were actually behaving quite acceptably… either they've figured it out or we finally bored them into submission haha)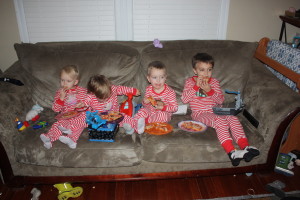 And our tradition of a new movie, popcorn, and pizza on Christmas Eve continues. Some quiet family time before the craziness of the holiday itself begins.
We remember, as we celebrate this holy day, this holiday, that while presents and stockings and lights under the tree are wonderful, family is the real thing to celebrate. These four little people who we are so blessed to share a home, to raise, to nurture, and sometimes to annoy, and the love in our home.
Happy Christmas, from our family to yours. No matter why you celebrate, or if you celebrate at all, remember the love between families this day and year round.
11 For unto you is born this day in the city of David a Saviour, which is Christ the Lord.
12 And this shall be a sign unto you; Ye shall find the babe wrapped in swaddling clothes, lying in a manger.
13 And suddenly there was with the angel a multitude of the heavenly host praising God, and saying,
14 Glory to God in the highest, and on earth peace, good will toward men.

Luke 2:11-14