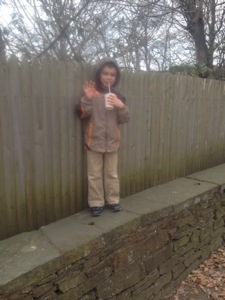 Is that spring time I see? Thankfully we got a bit of a respite this weekend, the winter coats have been cleaned and put away. We headed up to Newport to check out some of the outdoor sights we missed over the winter and had a blast!

It's a rare day when they'll all get in the picture for me! There were thankfully railings on this stretch so we were able to let them run free. We made friends with many a dog, some friendly walkers, and I'm sure amused many others.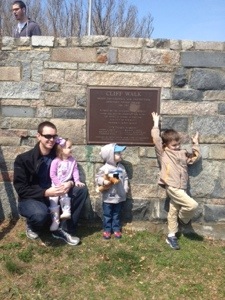 Val wanted nothing to do with the group shot and insisted on a private photo op.

Daddy was brave to carry a newly potty trained girl on his shoulders post 14oz milkshake. Yes, you heard me right, 2/3 are out of diapers! Only Jacen is left and I don't mind since we'd stocked up on tons of pull ups and the girls essentially transitioned in a matter of days!

Courtesy of a kind passer-by I got a new family photo! It's not often we get 6 sets of eyes looking at the camera!